UPDATED: Wednesday 7th of April 2021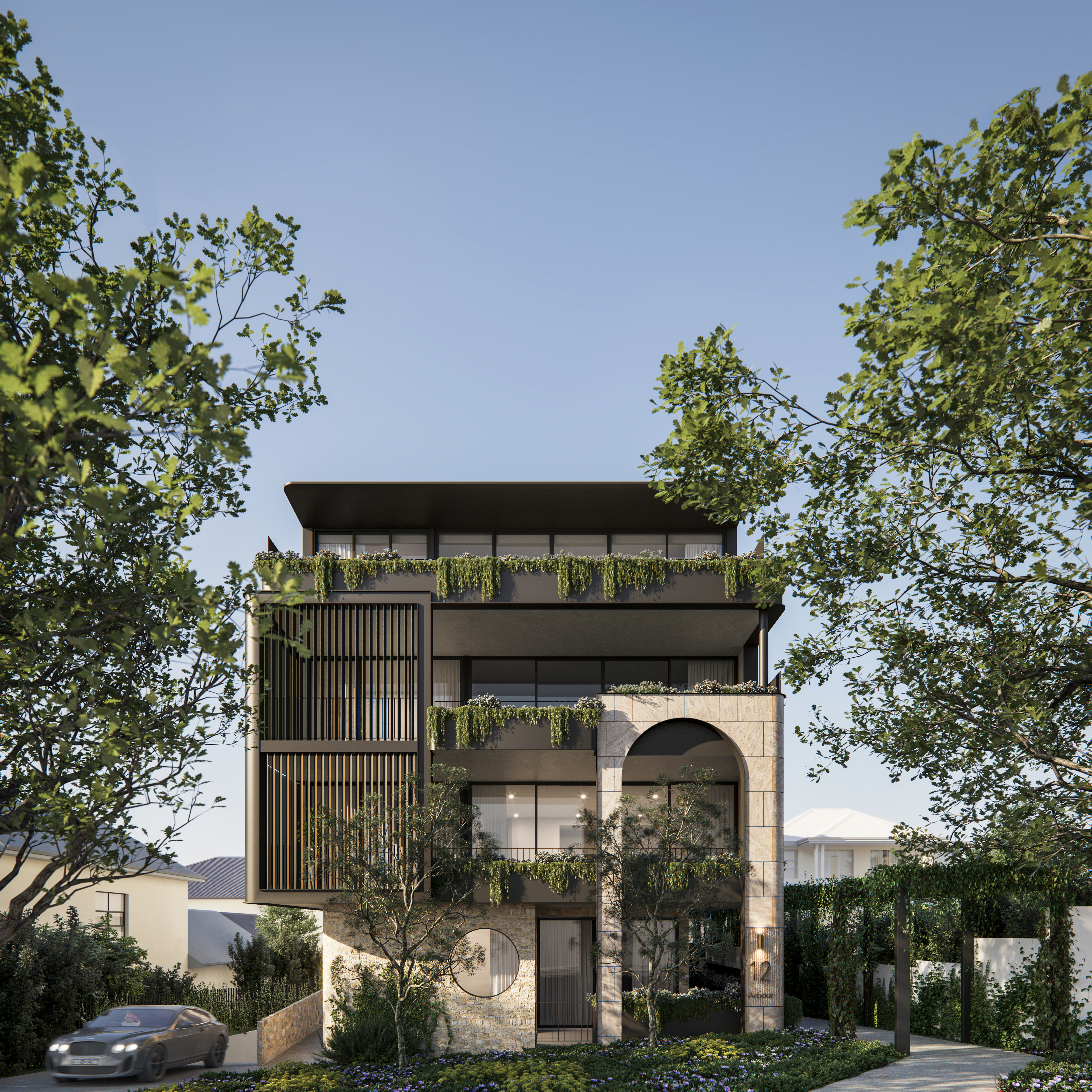 Dalkeith, WA: Today, Staunton Developments, a boutique luxury apartment developer committed to delivering unique international standard apartment living announce that The Metro Inner North Joint Development Panel (JDAP) has approved its Development Application for 12 Philip Road, Dalkeith.
The iconic development, named ARBOUR brings international standard apartment living to the western suburbs. The development comprises ten exclusive apartments including two luxury penthouses with stunning roof top terraces. ARBOUR has been designed with local residents in mind who are planning to make their next step into apartment living but still seek the privacy and exclusivity they have previously enjoyed in their homes.
Danielle Timms of Staunton Developments said, "we are delighted that JDAP approved ARBOUR Dalkeith's Development Application at its first opportunity. Staunton Developments together with Matthews & Scavalli Architects have worked hard to ensure the project design blends into the surrounding street scape and has chosen to deliberately exceed many of the R-code design requirements including set-backs and landscaping."
Danielle further stated "It is critical for Staunton Developments that this development not only cater for the changing housing needs of the Dalkeith area, but also leads the way in providing apartment living, which blends naturally with the existing low-density housing of the area."
Construction is expected to commence later this year with completion planned within 16 months.
PROJX by DUET has been appointed as the exclusive selling agency for this iconic development. DUET is the number one highest selling agency in the western suburbs and leverages the power of technology to find, identify and connect potential buyers with the information they need, to find the home they will love.
Susan James of DUET Property Group said "DUET is honoured to have been appointed as the exclusive selling agent for this unique and groundbreaking project in Dalkeith. We believe ARBOUR will deliver luxurious boutique apartment living options for local residents, the quality of which has not been seen before in Perth's western suburbs."
ARBOUR Dalkeith is now open for expressions of interest.
About Staunton Developments
Staunton Developments is a boutique luxury apartment developer dedicated to delivering unique 'international standard' apartment living, tailored to Perth's western suburb community.
Focusing on creating intimate developments for those who want to move to apartment living, but still want the privacy and exclusivity they have previously enjoyed.
Staunton Developments' creators, Jonathan and Danielle Timms have over 50 years real estate development experience between them, both in Australia and internationally. Jonathan grew up in Perth and is a long time Dalkeith resident, whilst Danielle has spent most of her professional career in Melbourne before making Perth home 5 years ago. Jonathan has a deep connection to Dalkeith & Nedlands, with his grandparents being one of the original residents in Vincent street in the 1920's.
Jonathan has had a long distinguished executive career holding key leadership roles across some of Australia's largest listed developers as well extensive international experience. He is deeply experienced in the development of luxury apartment projects, including partnerships some of the worlds leading luxury hotel brands.
Danielle also has a long executive career spanning institutional property development, leasing and management, both in Australia and internationally. Her passion for boutique residential apartments projects developed through her work in the very competitive Melbourne market.
Together they have a deep passion for the design and delivery of high-quality living spaces that will last the test of time, delivering both a superior lifestyle, but also excellent investment returns for its residents.
Jonathan and Danielle believe there is a clear opportunity to bring their unique perspective, both local and international, to the luxury apartment market and create product, which meets Perth's evolving needs.
https://getthewordout.com.au/wp-content/uploads/2019/07/GTWO-facebook-thumbnail.jpg
630
1200
Daniella Mosca
https://getthewordout.com.au/wp-content/uploads/2019/03/gtwo-reversed-logo.png
Daniella Mosca
2021-04-07 08:19:25
2021-04-07 08:24:34
PRESS RELEASE: 'ARBOUR' An iconic Dalkeith development receives Development Approval