PRESS RELEASE: International Albinism awareness day on June 13, and good news about Fiji providing sunscreen for people with albinism in Fiji
UPDATED: Monday 14th of June 2021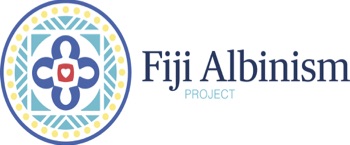 For immediate release
10 June 2021
Fiji celebrates June 13 International Albinism Awareness Day as the only country to provide free sunscreen to people with albinism.
As World Albinism Awareness Day is acknowledged globally ,Fiji proudly continues to be the first and only country in the world to whose Government provides free sunscreen to their adults and children living with albinism.
Fijian residents with albinism can access free sunscreen at Suva's Tamavua Twomey hospital, or through their health clinics. Distribution is being assisted by the Fiji Albinism Project team, which is based at the hospital.
Albinism is a condition caused from having little or no melanin in your body which affects skin, eye and hair colour and sun protection is vital to preventing skin cancers.
According to Dr Meciusela Tuicakau, Fiji's only dermatologist, the free sunscreen contains ingredients that minimise the harmful effects of UV rays on the pale skin of people with albinism who don't have the natural protection enjoyed by those with darker skin.
"It is vital that we protect the skin of persons with albinism from the sun's damaging rays, especially the children, so they can avoid getting sunburnt and developing potentially dangerous skin cancers in later life," said Dr Meciusela Tuicakau.
Fiji resident Sabina Moce who has albinism and whose skin is extremely sensitive to sunlight said access to free sunscreen has made a huge difference to her life.
"Well honestly, Fiji being the first country in the world whose government provides free sunscreen for people living with albinism speaks volumes itself," said Sabina. "It not only shows that the government cares for the wellbeing and safety of people living with albinism but its initiative of providing free sunscreens has also eased the ongoing burden of buying sunscreens for parents who have children with albinism and for this I'm very grateful."
Alisi Vulavou, whose daughter Emosi Tamaka Barokei has albinism said the provision of sunscreen as a free drug has brought great relief to the parents of children with albinism.
"All parents want the best for their children and sunscreen was a very expensive product to buy on regular basis," said Alisi. "I am so happy that we can now put this lotion on our children's skin everyday and keep them healthy and protected."
Adults and parents of children living with albinism are asked to please contact Fiji Albinism Project to get assist with receiving their free sunscreen, or email [email protected] Fiji Albinism Project, Tamavua Twomey Hospital, Princess Rd, Tamavua, Suva
A short video about the sunscreen purchased by the Fiji Government for people with albinism was submitted to the Global Albinism Alliance and is seen below.https://drive.google.com/file/d/1VrFVf_dcva5Uz01c_g6MM4PFsVGfXJTk/view?usp=sharing
In addition a gLobal zoom meeting wil be held on Sunday June 13 and is www.albinismday.com
ENDS
Media enquiries: Please contact Australia Dr Margot Whitfeld + 61 425 227 205 Fiji Fiji Albinism Project officer Ms Monisha Shree 9469429 Dr Meciusela Tuicakau+679 830 1020
Tamavua Twomey Hospital 332 1500
https://getthewordout.com.au/wp-content/uploads/2019/07/GTWO-facebook-thumbnail.jpg
630
1200
Daniella Mosca
https://getthewordout.com.au/wp-content/uploads/2019/03/gtwo-reversed-logo.png
Daniella Mosca
2021-06-14 09:16:54
2021-06-14 09:20:18
PRESS RELEASE: International Albinism awareness day on June 13, and good news about Fiji providing sunscreen for people with albinism in Fiji