UPDATED: Tuesday 14th of September 2021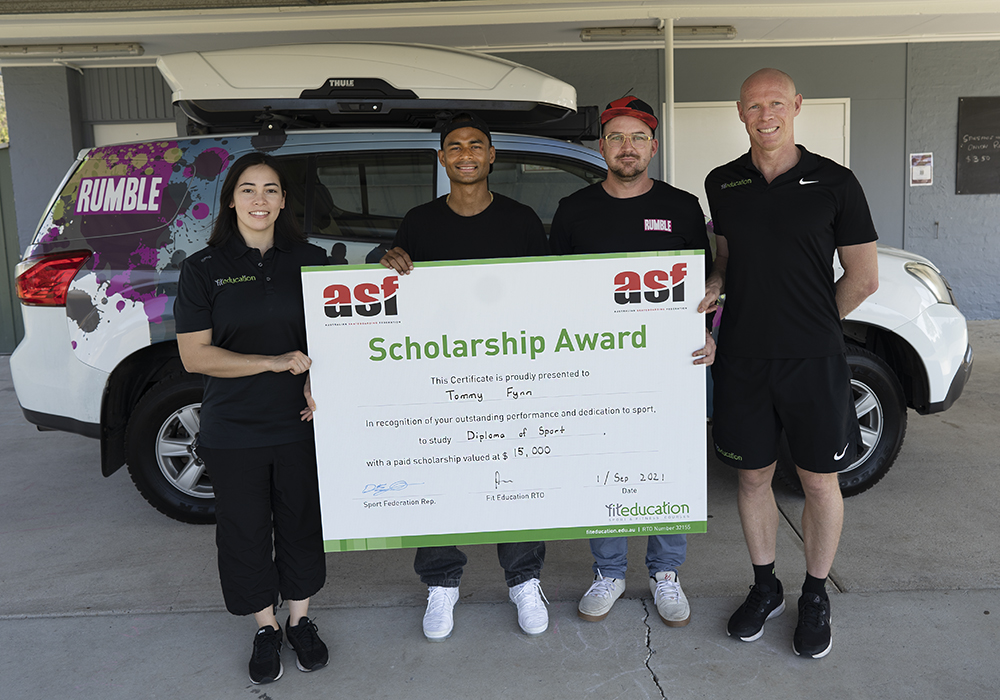 Brisbane, QLD, Sept 1st at JF O'Grady Memorial Park. Tommy Fynn became the first recipient of the Scholarship Award presented by the Australian Skate Federation.
Donny Fraser, ASF Director, presented Tommy Fynn with a Scholarship Award valued at $15,000 to study the Diploma of Sport, a high-level course that provides the skills and knowledge to pursue a career in sport coaching and sport development.
Tommy Fynn is the first recipient of this Scholarship Award. He has been chosen by the Australian Skate Federation (ASF) for his outstanding performance, dedication, and contribution to skateboarding.
Fynn's career has made him not just one of the best skateboarders in the World, but also a great ambassador for Queensland and Australia and a role model to future generations of skaters.
The Diploma of Sport course has been provided by Fit Education Pty Ltd, a Brisbane based Fitness RTO.
About the Australian Skateboarding Federation: The ASF is a volunteer run skateboarding organisation dedicated to skateboarding growth & development in Australia. The ASF helps community members and organisations deliver events, coaching programs and provides tools for them to get moving on the ground. The ASF runs a ranking system in Australia to promote skateboarding, connecting the network of organisers and competitions.
About Tommy Fynn: Tommy became a Pro skateboarder in 2014 after winning three successive Australian Skating Championships between 2011 and 2013 and being named Lam Skate of the Year in 2013. Tommy made Street League Skateboarding history (SLS is the highest league in skateboarding) in his rookie year in 2016 by taking a 3rd place finish in New Jersey. Tommy placed 1st in the Australian Skateboarding League National Championship in 2020. Amongst his most recent and relevant coaching achievements are coaching the following youth elite athletes: Chloe Covell (11yrs old) Open National Champion 2021; Taj Boyle (U16) National Champion 2021; and Haylie Powell (15yrs) Rumble on the Reef Open National Champion 2020.
About Fit Education: Fit Education is a Registered Training Organisation (RTO: 32155 – CRICOS 03804F) specialising in sport and fitness education. Fit Education was established in 2004 and has built a reputation as an industry leader in fitness education. Fit Education is the chosen trainer provider by many renowned Australian athletes and is currently partnering with Queensland sports federations and organisations to build coach education and professionalism for the Brisbane 2032 Olympics.
Photo Left To Right: Claudia Cowie (Industry Liaison Fit Education), Tommy Fynn (Skateboarder), Donny Fraser (Managing Director & Board Member), Chris Weier (CEO Fit Education)
Contact: Aitor Satrustegui [email protected] +61418507675
https://getthewordout.com.au/wp-content/uploads/gravity_forms/9-10aa94f8c3e020817b166f68d81b93d9/2021/09/logofb.jpg
628
1200
Daniella Mosca
https://getthewordout.com.au/wp-content/uploads/2019/03/gtwo-reversed-logo.png
Daniella Mosca
2021-09-14 11:43:47
2021-09-14 11:50:20
PRESS RELEASE: The Australian Skate Federation awards celebrated pro skater Tommy Fynn with $15,000 Scholarship.